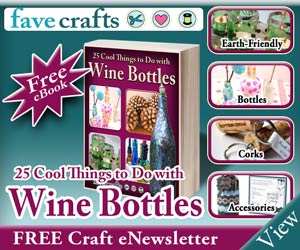 Have you ever looked at an old wine bottle and wondered, "What can I make with this?" In an era when recycling and reusing are all the rage, it seems like a waste to toss a perfectly good wine bottle into the recycling bin…but with the help of our free eBook, 25 Cool Things to do with Wine Bottles, you'll find tons of great DIY wine bottle crafts that are decorative, useful, and earth-friendly!
From your living room to your garden, these wine bottle crafts can help add beauty and charm to your décor. Turn wine bottles into colorful vases, wind chimes, and even colorful tea light holders. There are tons of uses for empty wine bottles in this eBook, and you may find it hard to even consider tossing a glass bottle into the recycling bin after you see all the awesome wine bottle craft projects we have in store for you.
Each craft tutorial in this free eBook comes with detailed pictures and step-by-step instructions. All the projects featured in 25 Cool Things to Do with Wine Bottles are great for adding a touch of style to your home decor, including Tissue Wine Bottle Vases (page 5), Hemp Wrapped Wine Bottle (page 25), Wine Cork Balls (page 26), and Quirky Cork Wedding Favors (page 36).
Turn Wine Bottles Into Craft Projects
was last modified:
December 25th, 2013
by